"Even before Covid we considered Charlotte a pro-business location, and Covid only accelerated interest in this kind of strategy," says Darin Rowe, national president of build to rent for Taylor Morrison. "B2R gives tenants a little more space and is a bit more aspirational than traditional apartments. This product caters to a large set of customers that have not been tapped before. There is a lot of runway, and we think this is early days."
Crescent Communities has a joint venture with Pretium to invest $1 billion in single-family, build-to-rent communities in 14 markets. The developer started that work last fall with a community of 109 for-rent townhomes near Charleston, South Carolina, in the town of Moncks Corner.
The second project is near Ballantyne. Called Harmon, it is a collection of 60 for-rent townhomes with three bedrooms and two-car garages on Marvin Road, near the Sprouts Farmers Market and Johnston Road.
"Over 98% of rental single-family homes are managed by individual landlords or small property-management companies," Chen says.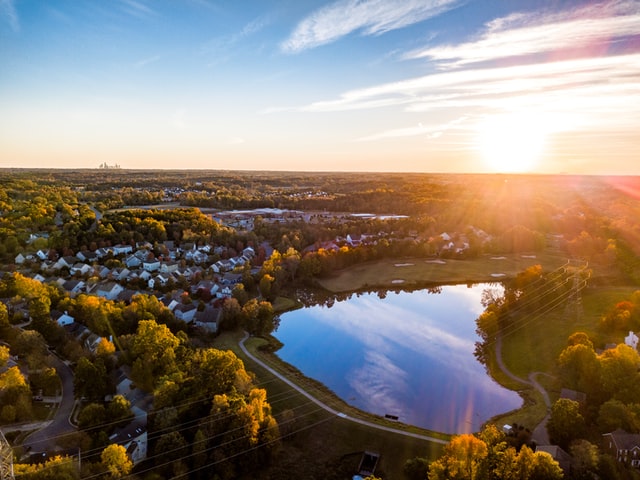 Trends and challenges
B2R takes a product people want — single-family homes, often with yards, garages and more privacy — and professionalizes the landlord/tenant experience. B2R tenants can pay their rent online and submit work orders online, much in the way they would do in class A apartments.
"We want to have a large footprint of full-sized homes for people who need the space but are not ready to buy," Chen says. "If you only think you are going to live somewhere for three years, this is a great option that didn't exist at the professional level before now. The industry is still so new that if you moved to the city and searched, you may not know the product exists here."
Crescent plans additional B2R projects, with locations north of uptown and in Gastonia and Concord. All will be townhomes.
So far, Crescent is only building attached townhomes as B2R communities, but detached housing is a property type the developer would like to pursue.
"The challenge with detached is the municipality and what lot sizes you have to adhere and what's allowed," Chen says. "When they understand what we are building is the same product as single-family homes, they get comfortable with it."
Developers say gaining municipal approval for the new housing type is a challenge. Most municipalities don't have zoning rules in place to allow B2R.
Rowe says local municipal zoning regulators are becoming educated about the product. "Zoning codes were developed to cater to multifamily or single-family. We say we have something different."
Rowe says land in the urban core is too expensive for B2R, which can be accomplished more easily in suburban areas that ring the city. But go too far out, and rents don't support the product. Rowe says B2R rents compare most closely with multifamily competitors.
"We look for where multifamily makes sense and competes well," Rowe says.
Crescent expects to begin construction on Harmon this year, with first units available in the summer of 2023. It's a similar time frame for Taylor Morrison's Monroe project.
One difference between the projects is how B2R communities are platted. Christopher Todd Communities at Monroe will be single-platted, meaning the individual cottages can never be sold to their tenants. The community will remain one asset to be managed by a single, large owner.
Crescent's Harmon community will be individually platted townhomes, so at some point in the future, the units could be sold to individual buyers.
"That is a key differentiator from other B2R developments," Chen says. "That is not always the case."
Chen adds that in the near-term, Crescent intends to build and operate its B2R platform, not sell it.
Investor sentiment about the product is high with Bloomberg estimating that $80 billion has come into the space nationally.
"At the end of day, there aren't enough pieces of land to serve the capital available," Rowe says. "We are excited to be a builder with the experience to overcome barriers to entry and put single-family on multifamily land. With the future trajectory of expected rents, we expect many years of success."
Meanwhile, other national players are looking for a foothold in Charlotte to bring more B2R product.
Phoenix-based VT LandGroup is scouring the Charlotte market for partners and land positions to bring its B2R product to the area. Charlotte — along with Atlanta; Austin and Dallas, Texas; Denver, Colorado; Tampa and Jacksonville, Florida; and Las Vegas — is on the company's short list because of population growth, job formation, cost of living and good weather.
"Charlotte checks those boxes," says David Solomon, vice president of acquisition and development for VT LandGroup.
So far, VT LandGroup has not put together land and building partners here. When ready, Solomon says the company will develop what it determines will do well in this market. While single-story, cottage-style homes are very popular in the Southwest, the Charlotte market may demand townhomes or larger, traditional single-family homes.
"The product is fairly new to the East Coast and the Southeast," Solomon says. "There are not a lot of players in the market."
Yongqiang Chu, director of the Childress Klein Center for Real Estate at UNC Charlotte, says that new for-rent housing in Charlotte can help mitigate the region's supply problem.
"Charlotte's housing has been under-supplied for the last 10 years," Chu says. "If build-to-rent is providing additional supply, that definitely helps ease the housing affordability issue we are facing."
While B2R is not as dense as traditional multifamily projects, which may provide more housing units to the market, Chu says the market is demanding more single-family options.
"As Charlotte grows, we will see more of these kinds of products and more B2R," Chu says. "I have heard of many developers wanting to come to this market. That means there is profit here."