Do Giant Retail Companies Contribute to the Rise in Property Prices More Than Car Companies?
October 8, 2019
Will the Coronavirus Impact the Real Estate Market in the US?
March 2, 2020
Zillow Scores a Zero for Consumers & Realtors
The warning signs were there all along if we had chosen to notice them at the beginning. Zillow was started in 2006 by none other than former Microsoft executives, Lloyd Frink and Rich (irony alert) Barton. And in the grand old Microsoft tradition of killing off the competition, Zillow has been busy from the outset in doing the same to its competitors in the real estate sector: the same competitors that would have offered realtors and consumers a better deal.
However, there are signs indicating the consumer is losing faith in Zillow's Zestimates, and a growing concern among realtors that Zillow is the worst out of all the real estate databases online.

Image credit: Consumeraffairs.com 2019
As far back as 2012, financial news forums were beginning to smell a rat. However, their suspicions were most often relegated to the bottom pages of search engine results as Zillow (and Trulia, Realtor.com et al) used SEO to flood this particular information sector with articles emphasizing the "positive" side of their own agenda.
Also, as most real estate investors – both HNWI and investment funds – are preoccupied with finding the next great deal, they have ignored the fact that websites like Zillow are slowly stacking the tables against them. This is the problem with a continuous one-way information feed biased towards the mega corporations that supply the food: it's often too late to spring into action when you're up against a fait accompli. But this is how the giant corporations win and take over.
That's when they end up being able to call the shots – when all the viable competition has dried up.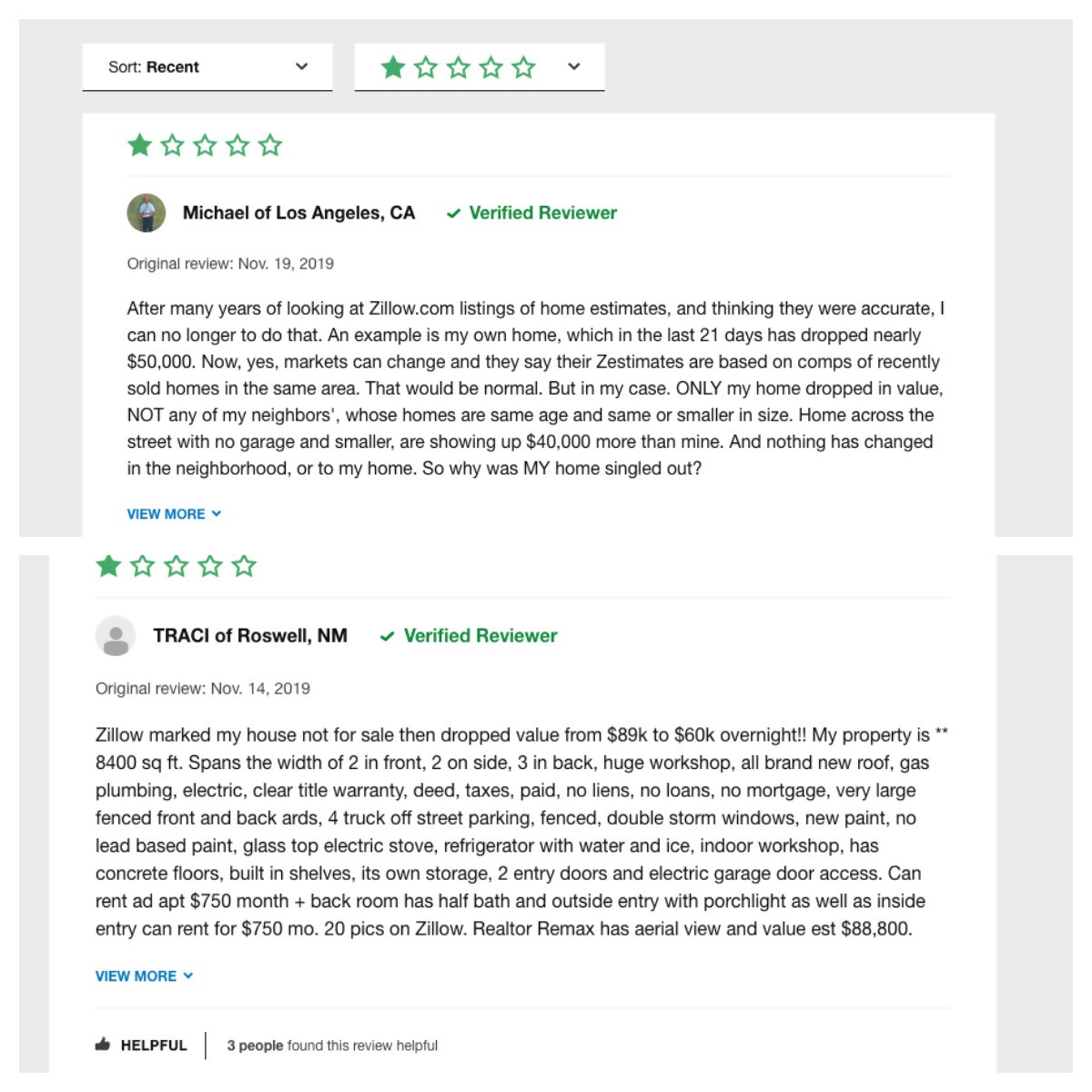 Image credit: Consumeraffairs.com
Zillow: More Like a Greedy Giant than a Knight in Shining Armor
Real estate investors, and folks who are looking for their first stepping stone into that market, stay up late most nights pouring over the internet for properties with potential. Cities near and far have their property data and analytics entered into a spreadsheet, and the accuracy of the data drives the decisions real estate investors make.
For the past year, countless brokerages have decided to withdraw their listings from real estate search portals like Zillow and the rest. The reasons cited for this move are listed conveniently for you to read below.
Zillow and other search portals are tardy when it comes to showing new listings. The minute a property is listed on local multiple listing services, it can take over one and a half weeks to populate through to national syndicated sites, according to latest studies. Real estate investors know how vital timing is, so getting to hear about a great listing one week after your competitors is not good.
Redfin assessed Zillow, Trulia, etc. and the study revealed that 36% (over one third) of the current listings on these sites were no longer for sale. When Redfin ran the same study parameters on local and national brokerages, the figure was 0% inaccurate and/or out of date listings.
Misleading advertising is a euphemism when it comes to describing Zillow's Premier Agent This is how it works: an agent can pay Zillow to usurp another agent's listing by putting their image and contact details next to the listing instead of the agent who is doing all the hard work. This is called "advertising", and the ethics of this practice has been called into question in New York State. Zillow completely ignored the questionable ethics side of the argument and jumped straight in to say what they were doing was legal.
Zestimates (Zillow's property evaluations) are worth zero. An estimate is only as accurate as the data behind it, and all signs point to incorrect and outdated information being used to formulate Zillow's property valuations.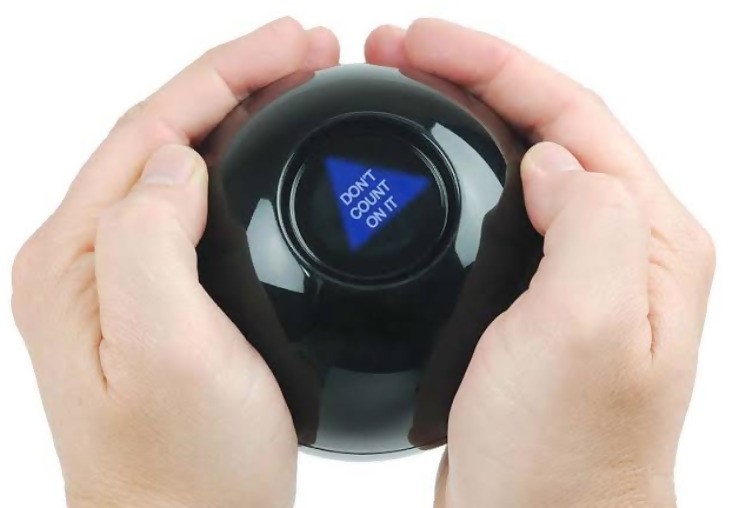 Image credit: CoolGift.com
How to Solve the Zillow Problem
Real estate investors need timely and accurate data, and they won't get it from Zillow, Trulia, and the rest; these websites are not reliable. Fortunately, there are other options available. Investors in real estate should focus on using smaller local brokerage-based websites, and take the time to establish a relationship with a local real estate agent. You could even sit for the real estate license yourself and join a local MLS for access to their data and listings.
Not only will these steps assure you get the most up to date and accurate information, but it will also give you a competitive edge against the investors who continue to use Zillow.
And Now a Warning for the Consumer
When you enter your personal information into an online real estate website, they own that information and can sell it to anyone. If you are casually looking through Zillow or similar website, create a temporary email address you can use first, and enter that into the information grab box. This might seem a little extreme, but it will save you, and the poor souls who are trying to boost their commission, a lot of wasted communication time in the end.
Zillow wheeled out Zillow 2.0 this year, which means they aim to take down the local real estate agent the same way Walmart took down the old Mom n' Pop stores, by buying, selling, and flipping properties on a national level. We advise you to watch this space for news about a possible RedfinNow vs. Zillow Battle Royale.
It might surprise you to know that we use Zillow. No, we're not whistle blowing or have any kind of beef with this site – and any of the others out there. We just want real estate investors, buyers, sellers, and agents to be completely informed when it comes to putting the reality into real estate.
References:
https://insights.som.yale.edu/insights/do-companies-buy-competitors-in-order-to-shut-them-down
https://www.consumeraffairs.com/homeowners/zillowcom.html
https://www.geekwire.com/2019/zillow-2-0-home-sales-outpace-real-estate-giants-traditional-businesses-first-time/
https://www.biggerpockets.com/blog/2012-12-20-searching-real-estate-trulia-zillow